Seagate BarraCuda Internal Hard Drive
The Best Comes From Within
Seagate has dominated the data storage industry for 40 years.
We understand your unique data storage challenges, and crafted BarraCuda Pro 14 TB 3.5-inch desktop hard drives to help you achieve your goals.
Thinnest and Lightest
With a 7 mm z-height, BarraCuda Pro 2.5-inch hard drives are a seamless fit for thin laptop upgrades and similar small form factor systems.
These 7,200 RPM drives are available in capacities up to 1 TB with data rates up to 160 MB/s for fast file transfers.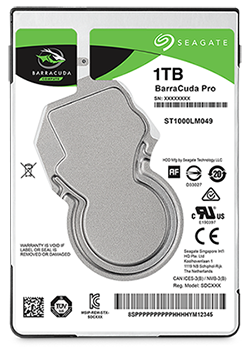 Versatile. Fast. Dependable.
The BarraCuda portfolio is the go-to source for desktops and mobile computers. Take advantage of industry-leading capacity and snappy load times your games and heavy workloads expect.